Nicholas Schoch, D.O.Shoulder & Knee Arthroscopy & Reconstruction
General Orthopedics
Trauma & Fracture Care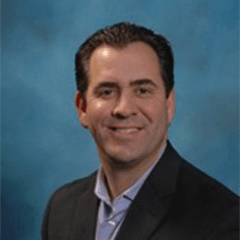 Undergraduate Education: Mt. Allison University, Canada 1988
Medical School: Michigan State University School of Medicine 1990-94
Orthopaedic Surgery Residency: Mt. Clemens General 1994-99
Board Certified by the American Osteopathic Board of Orthopaedic Surgery
I grew up in Montreal Quebec Canada and was one of six children. I had a passion for medicine since I was a young boy. I went to undergraduate university in New Brunswick Canada at Mount Allison University. I then went to Michigan State University for medical school. During my training, I fell in love with orthopedics and did my internship and residency locally at McLaren Hospital formally known as Mount Clemens General Hospital. I did general orthopedics for many years but then became interested in specializing in shoulder and knee reconstructions. I also still enjoy taking care of most fractures. The main surgeries that I perform are shoulder replacement both total and reverse shoulder replacements, arthroscopic rotator cuff repair and stabilization procedures for instability, fixing any type of broken bones around the shoulder, total knee reconstruction's, knee arthroscopy's, ligament reconstruction's as well as chondral transplant procedures. I perform a thorough exam and will strive to solve the reason you're having pain and functional limitations.
For more information, please visit my website at michiganshouldersurgeon.com.
Specialties
Shoulder Injuries / Reconstruction
We use our expertise to diagnose and treat many different shoulder conditions and simplify treatment options for you.
Knee
We treat all types of knee injuries in children and adults of all ages. We will do our best to get you back to your desired level of sport or activity.
Trauma (Fracture Care)
We specialize in treating all types of fractures. A fracture is a complete, or incomplete, break in a bone.